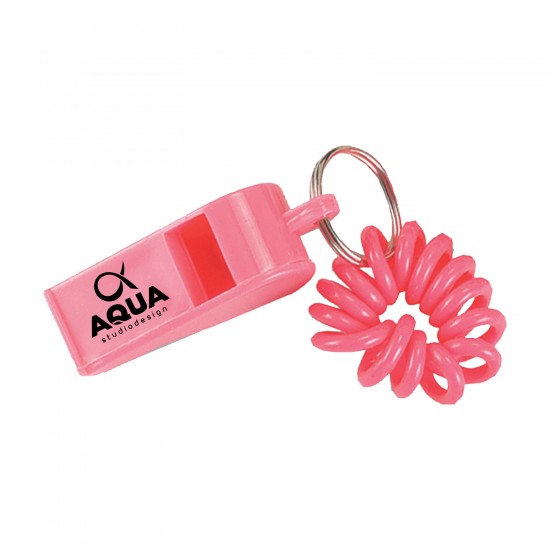 Plastic whistle. Soft, plastic coil bracelet. 2 1/4" W x 3/4" H
Detail
Imprint Method
Silkscreen
Imprint Size
On either side of Whistle 3/4" dia.
ImprintColor
Black; Brown; Burgundy; Dark Blue; Dark Green; Dark Red; Dark Yellow; Gold; Gray; Light Red; Light Yellow; Medium Green; Medium Yellow; Orange; Pantone Yellow; Pink; Process Blue; Purple; Reflex Blue; Rhodomine Red; Silver; Teal; White
Material
Plastic
Minimum Quantity
If you require less than the mimimum quantity listed please call to see if we can fulfill your request. Please note there is most likely a less than minimum charge and we will advise you of the cost once we have all the requirements of your order.
Packaging
PACKAGING
Product Colors
Pink
Production Time
5
Rush Time
1-3 days.
Size
2 1/4" x 3/4"
In a rush or need less than minimum - 866-849-8266
Custom Logo Coil Wrist Bracelet Key Ring w/ Whistle
Plastic whistle. Soft, plastic coil bracelet. 2 1/4" W x 3/4" H
| | | | | |
| --- | --- | --- | --- | --- |
| Quantity | 300 | 500 | 1000 | 2500 |
| Price | $1.24 | $1.18 | $1.12 | $1.06 |
Available Options
Please include any notes or requests in this field you feel are important to let us know regarding your order, artwork, printing guidelines, event date or product selection(s).
Every order will be hand held and you will be sent an email with your proofs to to review and approve, however the more information we have, the more efficiently we can move your order and proof (when applicable) through our system. If you have any questions please call 866-849-8266.